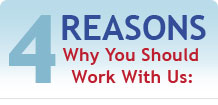 Get Paid Fast
Faster and smother claims settlement with our all-points insurance capture.
Collect Every Cent
We don't take no for an answer. We aggressively appeal every denied payment.
Bulletproof Reporting
Get 24/7 web-based reporting with customized reports and tips to improve revenue.
Ensure 100% Compliance
Failsafe compliance checks to safeguard your company (and your sanity).


Increase collections on every call by following some basic advice.

Read More

Get maximum payout with fast, easy, secure billing using our

revenue maximizer

system.
Testimonials


Our confidence is a reflection of our experience. In our first year of business, our collection was 300% more than the previous firm's collections. Our system of follow-ups and personal relationships has served us well and is our unbeatable method of success.

Kiryas Joel Volunteer EMS:
View Testimomial

Bedford-Stuyvesant Volunteer Ambulance Corps:
View Testimomial